Have you ever dreamed about flying like a bird, outside of a metal can with a windshield? Now you have a chance to do it in Microsoft Flight Simulator – take on your suit and prepare for a mind blowing experience!
You can hover like a helicopter, or escort an airliner like a jet fighter. Participate in competitions or fly above cities in VR mount raising hands to control the flight like in RL.
BASIC CONTROLS

Flaps handle is flight mode switch:
Flap #1 Cruise flight – native flight model only active
Flap #2 Stabilization – automatics will try to hold you in vertical position, manual control effectiveness also increased; in horizontal flight – increases controls quality and stabilize the wing
Flap #3 Hovering – automatics will try to hold you 10 meters above the surface, set throttle to 0% or 100% to avoid controls conflict
Flap #4 Landing – when you hover above ground, enable to land smoothly
Flap #5 Parachute – ensure you have at least 500ft altitude above ground. To toggle chute quickly, you can use Gears handle [G]
Anti Ice [H] – toggle first person view helmet visibility
Pitot Heater [Shift+H] – toggle HUD/HMD screen visibility and brightness

Spoilers handle – VR display vertical position adjustment (if display in Manual mode)
Navigation lights switch [Alt+J] – aboard attachment feature toggle
All listed settings can be switched by clickable Control Panel buttons.
Int > End fixed camera (A to toggle)
HOW REAL IS IT?
We are not trying to build a copy of any real aircraft. However, we are trying to make it fly at least somehow realistically for given specifications, in the existing limits of MSFS and our knowledge. Please consider JW1 as an evaluation of simulator capabilities rather than an attempt to create a flight trainer. Any experience you will get with this add-on can't be used in real life, both for flying or aircraft building.
SPECIFICATIONS
Aircraft Type: wing shaped jetpack
Maximum takeoff weight: 350lbs
Engines: x4 jet 100lbs thrust each
Autonomy: 15 minutes
Max range: 90km
Take off: vertical hovering
Landing: parachute
VR: supported
Indication: Legacy HUD (SkyTraveler) or Modern HMD (SkyPirat)
Visual effects: downwash, exhaust smoke, ground contact dust, water contact
Startup procedures: simplified (master starter switch)
Liveries: 4
CREDITS
270inc textures
ANRI flight model, competitions
Got Gravel flight model
Dietmar Loleit GenHUD (SkyTraveler)
1L2P instruments

brm352 instruments
maxx2504/Micha flight model
Free-to-Pay
You got fully working aircraft without payment, with full support, without usage time limits. If you like this add-on and wish to continue to use it, please purchase JW1 SkyPirat on SimMarket. You will also unlock some additional features.
Versions comparison
Feature

JW1 SkyTraveler

JW1 SkyPirat

Price
FREE
€8 (Excl.VAT)

High poly models

✔

✔

16k textures + PBR

✔

✔

Hovering mode

✔

✔

VR motion controls
✖

✔

Control panel
✖

✔

Accurate flight model

✔

✔

Avionics symbology
◯ FSX GenHUD

✔

AH64A HMD



Nearby aircraft indication
✖

✔

Aboard any aircraft
✔

✔

Landing chute
◯ Round


✔

Ram-air



Visual Effects
◯ Basic


✔

Advanced



How to get JW1 SkyPirat
Official MSFS announce
https://forums.flightsimulator.com/t/announce-your-personal-jetpack-jw1/417954
HOW TO INSTALL?
Unpack folder touchingcloud-aircraft-jw1 into Community directory of MSFS, launch simulator. You can use an add-on installer if you have any.
To install alternative flight model, after main files already unpacked (previous step), copy content of maxx2504-flight-model into community folder. Alternative FM is more stable and predictable – jetpack will fly like a small plane rather than body attached to the wing. If you feel default one too hard to control – try new one. If you are happy with "challenging" style of default FM – you better stay on it.
Paintkit
https://drive.google.com/file/d/1ARocDS2lpta-C_tAl5AX7S8V9Ak2pACM/view?usp=share_link
HOW TO UNINSTALL?
Delete folder touchingcloud-aircraft-jw1 from Community directory of MSFS, restart simulator.
IS VR SUPPORTED?
SkyPirat – yes! MSFS SDK has a limitation which makes impossible to track VR view direction, but workaround exists which makes possible to predict it. You need to center camera before the flight (Space key by default).
To adjust tracking sensitivity, use wheels on Control Panel – hold controller trigger on one of the wheels, move head away from the center, move controller to adjust display position, release trigger.
You can also try to use motion controllers during flight, walking on the ground or landing with parachute.
In First Person view ("Close" camera) near to pilot hands you can find motion control areas (half-transparent spheres) – grab left one first (move controller inside of it and hold the trigger), then right one. Hold triggers to keep motion controls active.
Flight controls – raise left hand to turn left, right hand to turn right, raise both hands to pitch down, both hands straight to the ground to pitch up.
Ground movement – raise left hand to turn left, right hand to turn right, raise left and right hands periodically one by one like you are walking to move forward.
Parachute landing – grab spheres near to chute handles (to the left and right of your head). Lower left hand and raise right to turn left, raise left and lower right to turn right, lower both hands to accelerate, raise both hands to slow down.
due to controllers tracking limitations, ensure they are always in direct visibility of optical sensors (in case of Oculus they are on the headset, so do not pitch up head too high, do not hide hands behind your body)
sometimes left sphere can not be grabbed (not even highlight when controller inside of it), restart the flight
HOW TO FLY?
ABOARD
You are able to get inside of another aircraft, vehicle or any other sim object or point of interest. Even windsock. To trigger "scanning", toggle Taxi lights by related hotkey (you need to set it on the controls page, Alt+J by default), or by common key Toggle lights (you may need to press this one several times). After scanning is activated, you will hear beeping sound and also SCAN label will appear on symbology display.
When you are closer than 30m to the center of some object, you will be "attached" to it by custom avionics script, which will mirror carrier velocity and rotation angles to you. Aircraft has priority above pilot models, so if you connected to the pilot of AI airliner – you will be reattached to the aircraft itself automatically. Search radius will be increased to half of the carrier wing span, plus 50% of current airspeed (to hold you attached at high air resistance conditions). However, it is not recommended to choose a carrier with airspeed faster than 200 knots for online player, 300 knots – AI aircraft.
Display symbology label ABRD will appear, fuel level will raise slowly while you are attached.
There is a huge limitation in MSFS – only AI and generic planes visible by SimConnect as aircraft, which provide various avionics data (like velocity), while other online player's aircraft visible as Pilot models which have only rotation angles and location. So you will have worse experience while aboard other player aircraft compared to AI/generic plane.
Live traffic and multiplayer planes disappear when you are close enough, while AI generic planes and replay objects stay visible.
Carrier aircraft type
Smooth movement


shaking and lagging cause problems

Always visible


aircraft stay visible when you get close to it

Position/attitude data


makes attachment possible

Velocity data


improves attachment stability

AI generic traffic
✔
✔
✔
✔

Best result

Live traffic
✔

✖

✔
✔

Hard to get aboard  airborne aircraft

Recorded flight

✖

✔
✔
✔

Shaking during flight

Online player

✖

✖

✔

✖

Worst result
If you want to leave the carrier – toggle Taxi lights so you will no longer be held by script and proceed to normal flight. If altitude less than 10 meters and airspeed is low – you will be "teleported" on the ground surface to avoid crash triggering.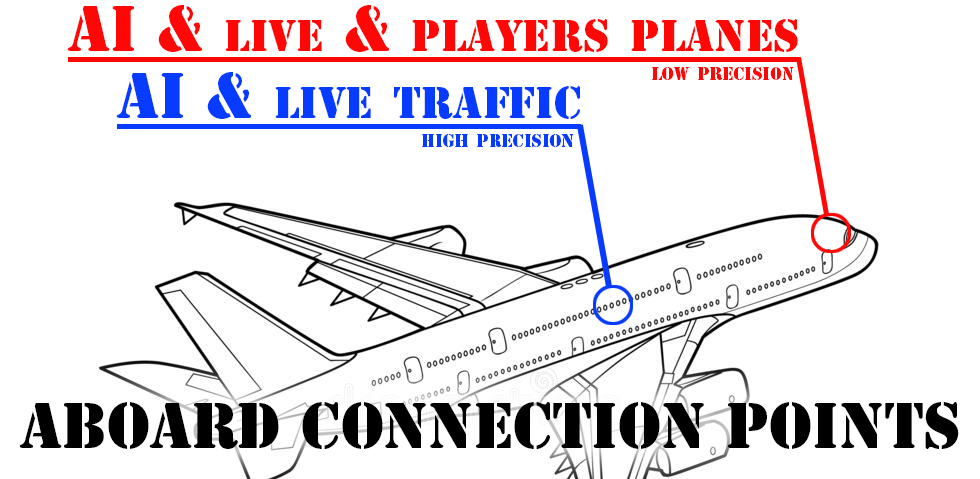 During scanning, you will see indication of nearby objects on the display (SkyPirat). Indication very inaccurate while hovering or standing on the ground, better during cruise flight.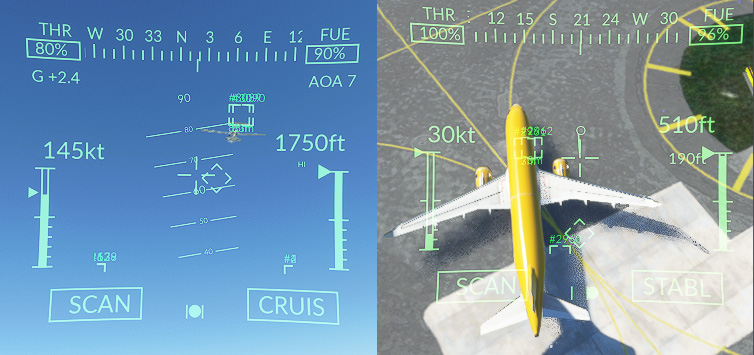 CONTROL PANEL (TABLET)
Control panel can be found on back side of the wing (in back camera mode) or in front of the pilot (first person view). In second case control panel can be moved up and down by dragging the screen.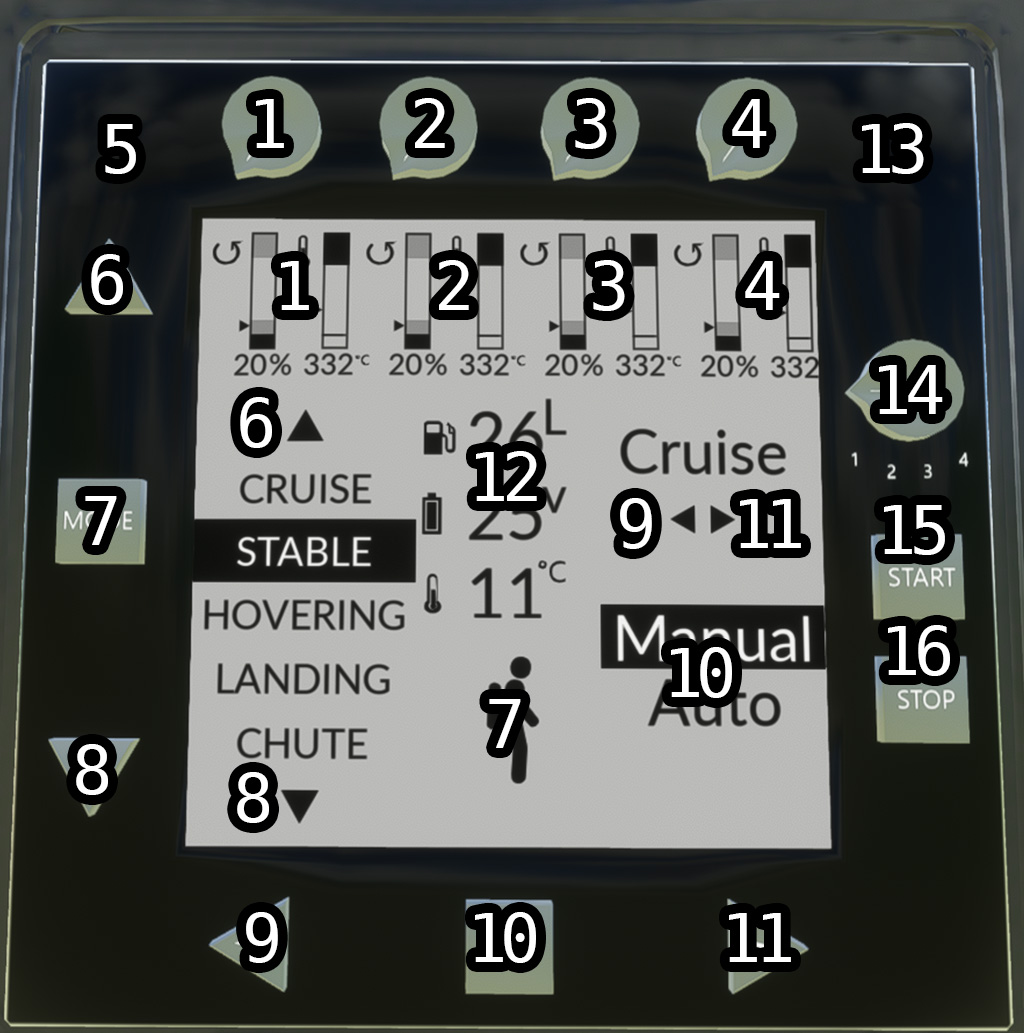 1-2-3-4 Engines control (to shout down, hold left mouse button and press right, like in Asobo F/A-18E)
5. Head tracking sensitivity (VR mode only)
6-8 change flight mode (same effect as Flaps handle)
Tip: to deploy parachute during Cruise flight, press UP button(6) so you will skip stabilization modes
7. Toggle Aboard mode (same effect as Taxi Light switch)
9-11 Scroll available settings
10. Toggle selected setting
12. Information about total amount of fuel, battery voltage, ambient temperature.
13. Motion controls position adjustment
14. Engine START/STOP selector (position on the picture – none)
15. Start selected engine
16. Stop selected engine
POSSIBLE ISSUES
stabilization does not work (even when you on the ground, aircraft does not react on stick movement) – WASM script not able to affect game flight model, check that you have no SimConnect.ini file in MyDocuments folder or restart the game in case SimConnect stop to work properly.
aircraft acting weird during runway cinematic – it may fall down, or fly away; no way to fix it as cinematic script does not support vertical-standing aircraft (yet?)
jetpack flip right after takeoff – turn on stabilization by flaps hotkey/button (position #2 for manual take-off, or #3 for automatic)
jetpack can't translate into vertical position for landing – ensure your airspeed less than 100 knots, stabilization activated (check previous point), all four engines thrust at lest 50%, control stick in a bottom position
HUD glass out of sight – if display tracking does not work properly,  you can set Manual Display option on control panel, then configure "spoiler handle" axis in controls settings. Use it for HUD vertical position adjustment, or toggle Spoiler with hotkey so display will stick to the center of the screen.
Press CTRL+SPACE of F key to reset view in case script no longer able to read camera viewpoint angles.
camera or aircraft acting crazy while pilot standing on the ground or hovering vertically – game engine don't expect such aircraft to be positioned vertically (it still an airplane with longitude engines thrust), so pointing to the zenith cause such side effects. you can switch to Fixed Camera (Showcase tab of Camera panel)
Pilot can't walk or smoothly interact with ground – MSFS does not have proper inverse kinematics support yet, so body animations are baked in 3D editor. It is possible to add any kind of animations but quite hard to make transitions between them. But we are looking for workaround. Basic walking animation added.

Landing chute not opening – ensure that drag chute stabilizes you in vertical position, avoid using control stick until parachute deployed
Multiplayer or live traffic disappear when you get close to it, which makes aboard less fun. This is sim limitation, vote for the wish if you would like to make it toggle-able
Aboard feature works really bad with other players aircraft due to sim limitation – WASM script can't get multiplayer system data (yet, I hope). We are waiting until ASOBO will fix it.