Microsoft Flight Simulator © Microsoft Corporation. DG Flugzeugbau DG-808S MSFS add-on was created under Microsoft's "Game Content Usage Rules" using assets from Microsoft Flight Simulator X, and it is not endorsed by or affiliated with Microsoft.
https://www.xbox.com/en-US/developers/rules
The DG Flugzeugbau DG-800 series is a family of 15 metre and 18 metre single-seat gliders and motor gliders produced by Glaser-Dirks since 1993 and by DG Flugzeugbau GmbH after 1997. It is the successor to the DG-400 and the DG-600 models. DG808S is 18m wing span competition glider. This modification has 150 pounds thrust retractable jet engine installed, which can be used for taking off or flight sustain.
If you are not planning to use engine, after flight starts on the runway press READY TO FLY immediately. If you need an engine, wait for ~10 seconds until it spins up, only then press READY TO FLY button.
As an alternative, you can use Kinetic Assistant application – it provides winch and tow functionality (animated ropes only in payware version). Same as thermals simulation – you can place thermals in soaring area manually or get hotspots from API server in one click (best coverage in central Europe).
To participate in competitions, or load just train your skills on proposed routes, you may try MSFS ALBATROSS competitions app
Even if this add-on released under TouchingCloud label, in fact that is community job – many people were involved in development, so it will be fair to list their names (in order of appearance, hope I did not forget anyone):
Flight Simulator X dev team – 3D model
Michael Rossi – flight model, systems
Ian "B21" Lewis – instruments
ANRI – flight model, competitions
David Fairhurst – textures
Emil Jacques Watson – textures
Got Gravel – flight model, systems
Pup Pryde – textures
renderpeople – pilot model
Also many testers and media creators helping us during the process, thanks guys!
---
HOW TO INSTALL
Unpack archive content into Community folder (if you have problems finding it – read this article https://www.flightsim.com/vbfs/content.php?21235-Finding-The-MSFS-2020-Community-Folder ).
---
HOW TO UNINSTALL
Remove "touchingcloud-aircraft-dg808s" directory from Community
---
Aircraft avionics and controls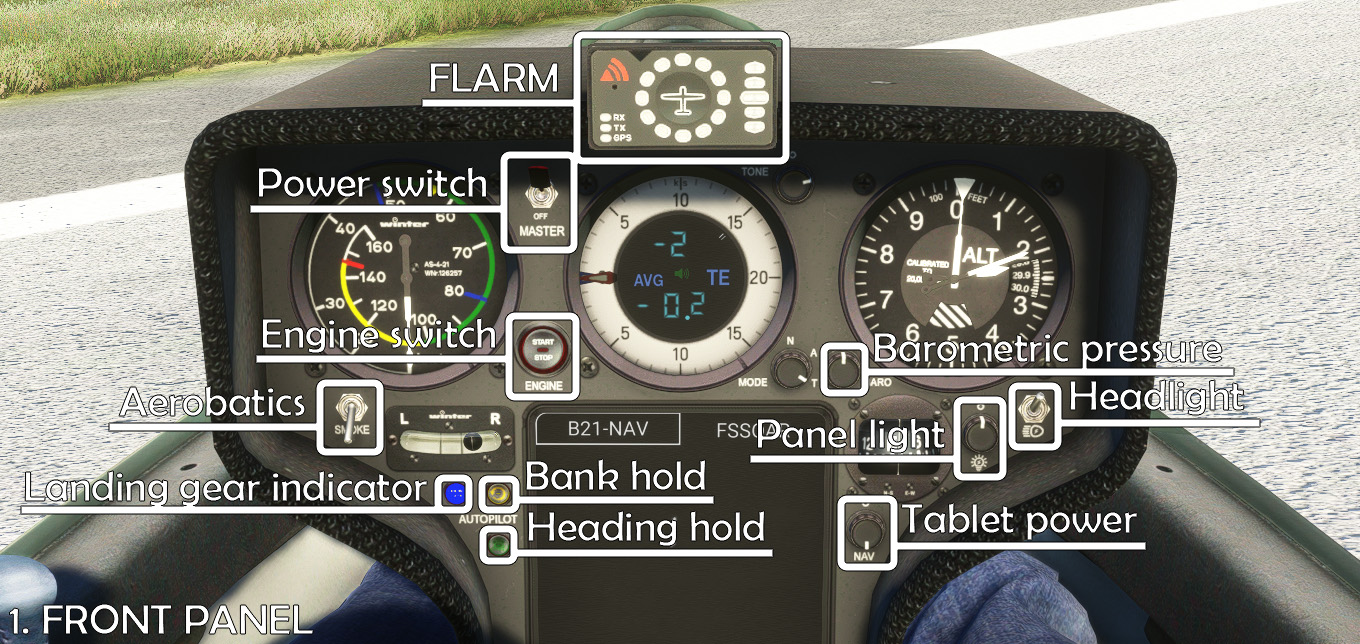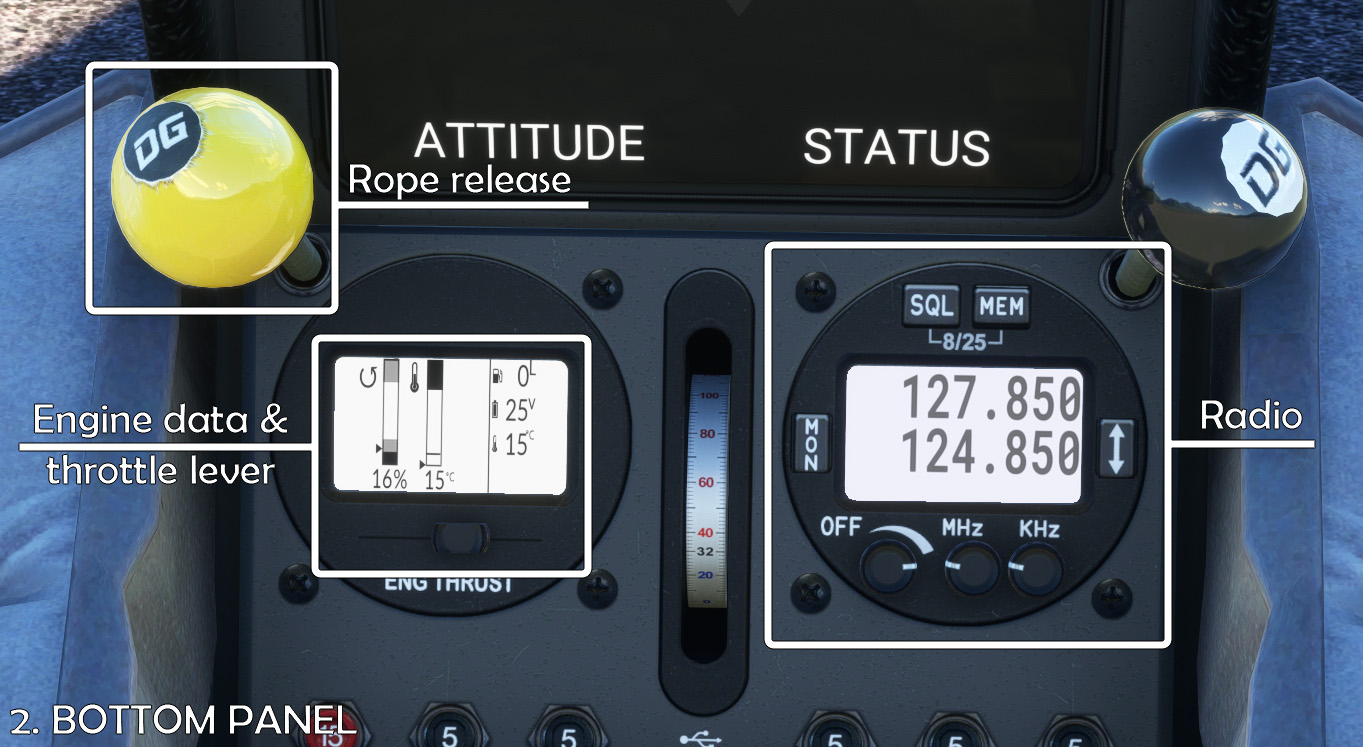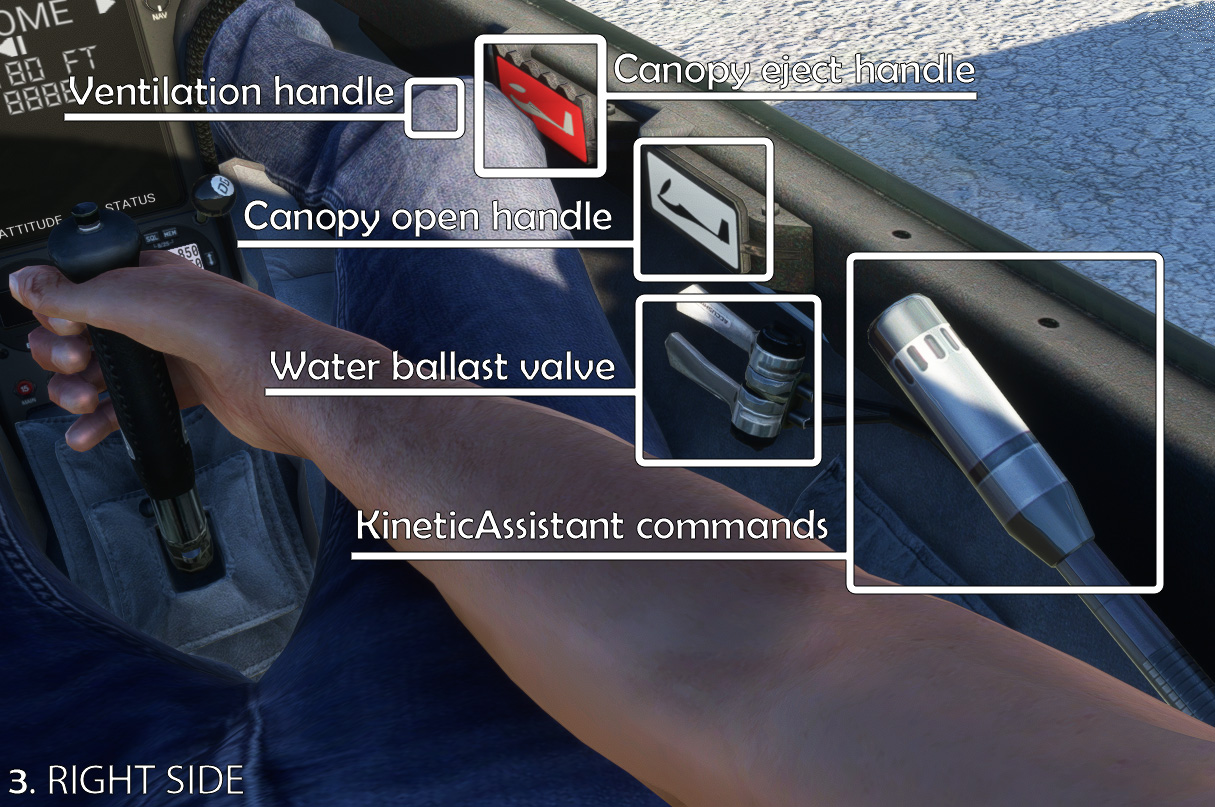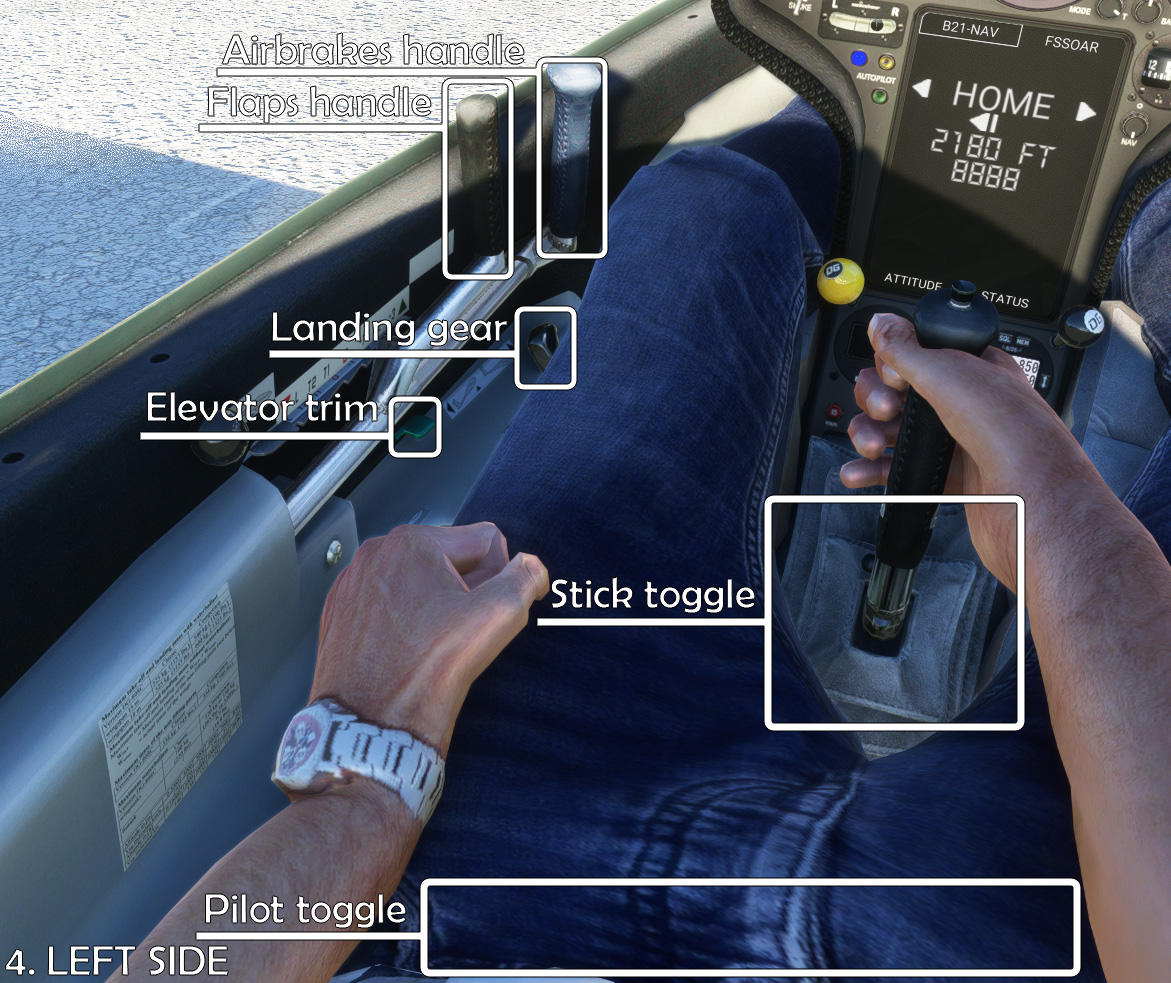 ---
Variometer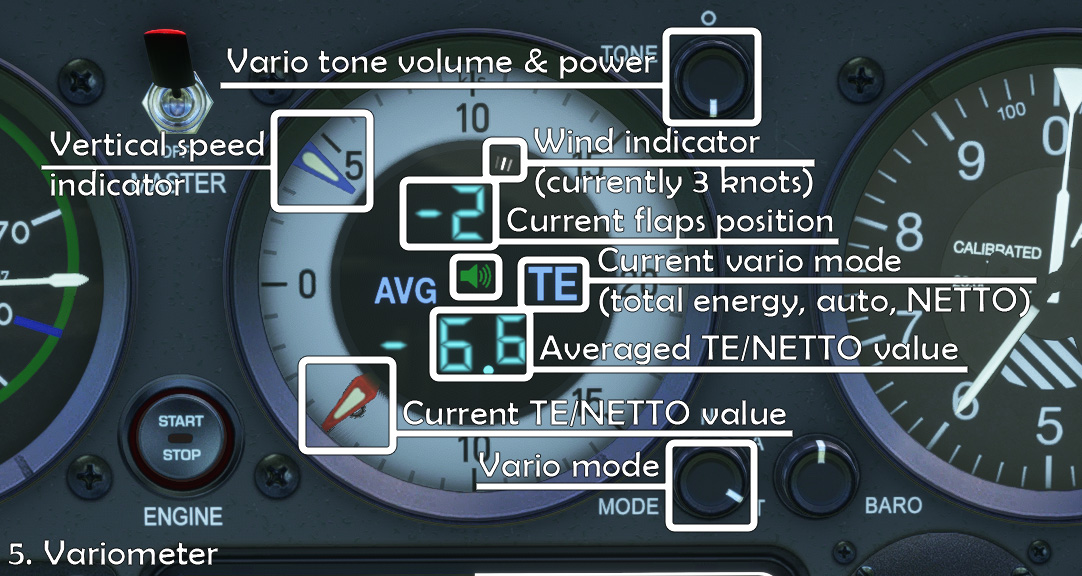 ---
Navigation screen
---
Canopy indication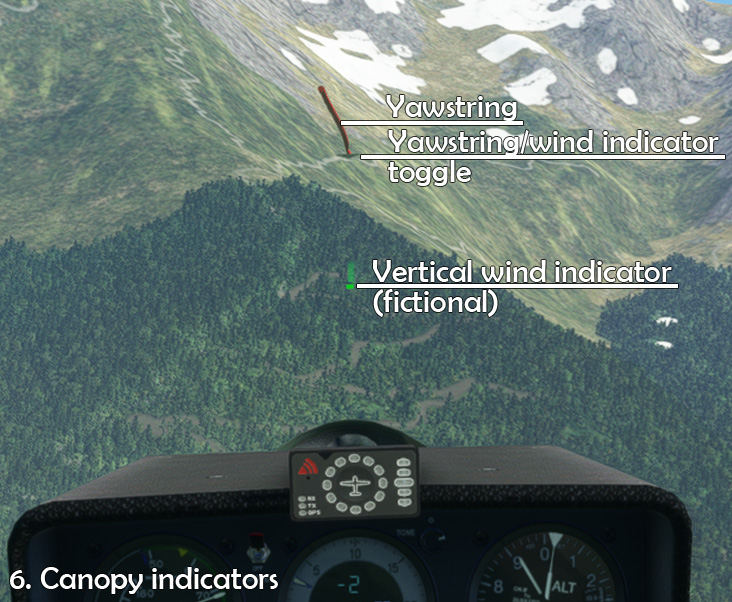 ---
NOTES AND ISSUES
Remove fuel before flight start if you don't need the engine or just press ENGINE button on front panel after flight start.
If you want to disable vario tone, turn the knob to the right top of the vario counter-clockwise.
Sometimes map or vario gauges hang and stop working properly. You need to restart them with a relative knob – after reinitialization they could go back to work.
You can use Toggle water rudder key to release winch/tow rope created by KineticAssistant.
If you wish to create liveries for this add-on, check layout files and blank livery files
---
Glider configs
You are able to edit default avionics parameters by changing RUNWAY.FLT file values (in case you are starting flight on the runway). Main variables:
UNITS_IMPERIAL = 100 Imperial / 0 Metric
VARIO_TONE_ACTIVE = 0 vario disabled / 20 muted / 100 max volume
VARIO_MODE = 0 NETTO / 50 AUTO / 100 TE
NAV_SCREEN = 0 screen disabled / 100 enabled
PILOT_TOGGLE = 0 pilot visible / 100 hide
CANOPY OPEN = 0 canopy closed / 100 opened
SLIDING_WINDOW = 0 window closed / 100 opened
YAWSTRING_TOGGLE = 0 yawstring visible / 100 hide
WINDSTRING_TOGGLE = 0 vertical wind indication enabled / 100 disabled
---
UPGRADE INSTRUMENTS DETAILS
by Ian "B21" Lewis
##############################
# DG808S B21 Instruments v.44
# SUMMARY USAGE:
##############
The instruments will work fine "out-of-the-box" with the Cambridge Vario auto-switching between CRUISE and CLIMB modes.
HOT-KEYS:
Assign a key/button to "TOGGLE BEACON LIGHTS" to manually switch the Cambridge vario to CRUISE or CLIMB.
Assign a key/button to "TOGGLE NAV LIGHTS" (default "Alt-N"?) to select NEXT WAYPOINT in Nav Display (if you have a flightplan loaded).
Assign a key to "TOGGLE CABIN LIGHTS" (default "Alt-T" I think) to show/hide debug readings.
#########################################
# Nav Instrument / LOADING A FLIGHT PLAN
#########################################
The Nav Instrument tells you
* the name of the selected waypoint
* a pointer for the direction to go
* the altitude of the waypoint
* the distance (in Km) to go
Flight plans are not essential, but we can use them to define a soaring cross-country task.
If you start the flight with no flight plan loaded, the Nav instrument will populate a single waypoint for your starting position,
calling that 'HOME'. This isn't a bad place to start with a launch followed by a glide back to the airport following the Nav
pointer, including in a cross-wind.
If you load a flight plan (before starting the flight) then the Nav Instrument will read that and display the first waypoint. You can
select further waypoints via the hot-key/button assigned to "TOGGLE NAV LIGHTS" (default Alt-N).
You can use 'Alt-N' (by default) to step through each waypoint on the Nav Instrument. Technically in MSFS you are toggling the
Nav lights but this is a workaround to enable you to interact with the Nav Instrument.
You can create your own MSFS flight plan with Little Nav Map (or Plan G).
MSFS has it's own idea for what to do with the ALTITUDES
in your flight plan and this makes those altitudes irrelevant for soaring. If you append "+" to your waypoint NAME
e.g. "START+4000" then in this example the Nav Instrument will display 4000 (feet) for the "START" waypoint. This will be more
important if/when I add 'estimated arrival height' as a function of the Nav instrument.
An example Mifflin_Day1.pln MSFS flight plan for a soaring task is included.
See https://xp-soaring.github.io/fsx/missions/mifflin/overview.htm
Set the wind for 315 degrees / 17 knots / no gusts. This is harder than it sounds so ask the FB ground if you're unsure.
######################
# Cambridge Vario
######################
The Cambridge Vario has 3 modes
AUTO MODE:
* icon at 3-o-clock will be blank (cruise) or a circle-arrow (climb)
* Average at 6-o-clock will be:
– cruise: rolling average Netto
– climb: true climb average since entering climb mode.
* Needle and Audio will be:
– cruise: Netto
– climb: TE
In AUTO MODE the gauge will switch sensibly between the AUTO-CRUISE and AUTO-CLIMB modes, e.g. a variety of different situations will
cause the gauge to operate in AUTO-CLIMB mode (needle showing TE climb rate, AUDIO on TE, averager giving you the TRUE climb rate
since you entered this mode). For example, selecting flaps T1 or T2, flying below 70 knots in rising air will cause the
Cambridge vario to assume you are trying to thermal. Flying fast, or simply flying in a straight line without climbing, will cause
the vario to exit climb mode.
CLIMB MODE:
* icon at 3-o-clock will say "TE"
* Average at 6-o-clock will be rolling average TE
* Needle and Audio will be TE
* The vario will remain fixed in this mode, with no auto-switching
CRUISE MODE:
* icon at 3-o-clock will say "Net"
* Average at 6-o-clock will be rolling average Netto
* Needle and Audio will be Netto
* The vario will remain fixed in this mode, with no auto-switching
##########################
# General info
##########################
Power on/off (default Alt-B) should work as expected. The instruments should cope with 'slew mode' and 'pause' ok.
I have NOT yet programmed the Cambridge 'true average' to detect pause/slew yet.
* ASI has (top) TRUE AIRSPEED (bottom) GROUND SPEED kph
* Nav has (bottom left) GLIDE RATIO
* WINTER has (bottom) TE m/s
* Cambridge has (bottom) Netto m/s.
The Netto is calibrated with the correct polar, so in STILL AIR if you're flying properly (e.g. in the right flap, wheel up,
spoilers closed) it should read zero. Any difference is the sim flightmodel error or you are not flying in still air (easiest
check is the L/D in the Nav display).
MSFS gusts are not sensibly implemented currently, so you need to disable those or will have excessive jitter in the vario needles.
DG Flugzeugbau DG-808S v0.11.5
– autopilot roll and heading hold modes
– waypoint automatic skip distance changed from 200m to 1.5km
– engine RPM set to 0 if flight started on runway or apron
– FLARM aerial collision warning added
– units switch moved to the STATUS page of tablet
Issues fixed:
– thumbnail is missing
– FLARM react on birds and hotspot spirals
– jet engine sound played during flight  even if engine retracted
DG Flugzeugbau DG-808S v0.11.2
– smooth spoilers animation
– KineticAssistant switches replaced with tablet menu screen (click on microphone to the right to activate this menu)
– wings flutter animation
– jet engine 3d model (retracting/extracting automatically, press red START button to toggle)
– jet engine status screen (replacement for transponder gauge)
Issues fixed:
– ballast dump and smoke effects does not appear in multiplayer
– map glider icon does not move up in split screen mode
– open canopy does not affect exterior sounds volume
DG Flugzeugbau DG-808S v0.10.1
canopy glass flickering fixed
glider icon of FSSOAR map moved on top of the trail
animation of ailerons and flap handle fixed
added fictional indication of vertical wind (can be toggled by WHEEL DOWN/DRAG LEFT on yawstring root triangle)
DG Flugzeugbau DG-808S v0.10.0
canopy glass materials added (scratches, fingerprints, fogging)
smoke and ballast effects fixed
flight model reworked to improve stability and performance
yawstring code moved from JS to XML (faster animation but less accurate)
Water ballast indication in Status page of the NAV screen
sinking indication for map's total energy trail
parking brake removed, brakes linked with spoiler handle
flaps handle can be moved backward/forward by VR controller
DG Flugzeugbau DG-808S v0.9.4
dummy pilot node added to make glider visible on FLARM
vario needles indication fixed
XML script for smooth thermals lift simulation (KA 0.11.0 or later required)
DG Flugzeugbau DG-808S v0.9.3
gauge textures improved
doubled mouse pointer near flaps/spoiler handles and radio switches in VR fixed
environment occluder box replaced with fuselage shaped model (affect water and grass)
ground obstacles warning added for FLARM (sound volume linked with vario tone volume for now); only animated static objects can be detected (like windmill), smoking chimneys of We Love VFR add-on
stalling during winch launch fixed
DG Flugzeugbau DG-808S v0.9.2
aerodynamics fixes; as flaps drag/lift calculations became really weird after SU5, flaperons deflection by flaps handle became barely visible
most levers/switches updated to native trigger templates for better usability and future VR controls support
experimental FLARM device – no modes or advanced indication, just pointing to the direction of closest aircraft or ground unit
radio and transponder added to the bottom panel (WIP)
secondary canopy glass with cockpit reflection removed (now reflection appear only when Windshield effects set to ULTRA)
DG Flugzeugbau DG-808S v0.8.2
Post SimUpdate5 issues fixed:
error messages on NAV screen
smoke not working
ballast effect is broken
some cockpit switches does not have label or not clickable
FPS drop during the long flight (confirmation needed)
compass disc moved down and shaped as cone
deployed spoilers cause slip (still may happen)
DG Flugzeugbau DG-808S v0.8.0
animated pilot model (toggleable by click on seat)
additional liveries
cockpit reflection for canopy
custom attitude indicator
flight track for nav map
precise aerodynamics
panel light
improved textures and materials
custom water dump and aerobatic smoke effect
DG Flugzeugbau DG-808S v0.7.4
TEST
– custom nav screen; two modes – classic "B21NAV" and "FSSOAR" (fake XCSoar, very unfinished)
– nav screen waypoint autoskip at distance less than 300m
– precise flaps/ailerons angles (affecting flight model behavior)
– controls effectiveness decreased
– custom cockpit sounds (wind, ballast dump, some switches)
– custom pilot model (not animated yet, exterior only)
– template livery "BLACK"; to make your own livery – copy textures and their json files (one json per texture) you want to edit into "textures.BLACK folder", then update JSON of the whole aircraft by JSON Generator (only if new files was added)
– minor gears fixes (still no rotation animation)
Overall progress:
Textures 60%
3D Model 30%
Flight model 70%
Sounds 40%
Gauges 80%
Navigation: 50%
Radio panel 0%
DG Flugzeugbau DG-808S v0.7.3
TEST
yawstring and slip ball animation improved
some sounds added (several switches and open canopy wind)
vario needles indication fixed
TE/netto needle rotation smoothed
Kohlsman setting for altimeter
wings livery layout moved to DG808S_W texture
vario and altimerer knobs/buttons textured
positive vario tone with variable interval
scroll actions removed from canopy handles to avoid accidental open/eject
DG Flugzeugbau DG-808S v0.7.2
TEST
missed polygons fixed
pilot size decreased, changed to male
advanced materials added, will take a long time until everything could look nice but some things improved already – like chrome cockpit details and brighter needles
instruments units switch
VR mouse pointer collision surface added into cockpit
primitive ballast dump effect at speed more than 30kn (still looks like a fire, hope effects system will be improved soon)
DG Flugzeugbau DG-808S v0.7
TEST
Model was converted into native format, so no more limitations with clickable switches, instruments, advanced materials.
What was improved:

– Gauge instruments textures replaced, cockpit and livery improved
– Original animations restored
– Clickable elements restored, some new added. Most levers can be triggered by a mouse wheel. Easter egg hidden somewhere, be the one who found it first :slight_smile:
– Flight model improved to fit real performance data
– tow release handle and winch/towplane switch work only in latest kinetic/albatross versions. you have to launch application and press connect button before flight, or nothing will happen.
– Water ballast:
before take off you can set amount of fuel in left and right wing tip tanks which will be used for the ballast dump valve only. You can set central tank fuel amount if you are using jet engine, once it will be out of fuel – engine will be turned off. When you need to loose some weight – before landing, or to get extra lift, open the valve. When pointer hovered on it – you will see tooltip with total weight of the liquid inside (let's think it is a water).
Later sound effect will be added and, when smokes implemented, visual effect (probably even after next MSFS update). Hope it will work in multiplayer and in replays properly.
Issues:
– poor geometry: low poly elements, missing polygons (like outside of canopy)
– no additional sounds (open canopy wind, switches etc.)
– no advanced materials (normals or PBR)
– game crash reported on attempt to restart flight, confirm if happened for you
– default nav display used, buttons squeezed because of unsupported aspect ratio
– unrealistic animation of yaw string
– single livery
Follow Touching Cloud Facebook page for updates announcements
DG Flugzeugbau DG-808S v0.6
Installer no longer require FSX assets
gauge file names shortened to avoid "Too long path name" Windows error (still may happen)
wings flex modifier decreased twice
spoilers effectiveness decreased twice
sounds minor changes
controls effectiveness and overall glider performance adjusted
collision points adjusted, wingtip wheels added
VR liveries added (to avoid crash to desktop in VR mode)
Interior model fixes (to make it looks better in VR mode)
Screenshots by ANRI
DG Flugzeugbau DG-808S v0.5
TEST
default flaps value set to 0 deg
flaps positions number increased to 7, handle animation issues fixed
center of gravity values changed
auto trim feature works now (Z key)
overall flight model improvements
speed indicator value replaced from TAS to IAS
DG Flugzeugbau DG-808S v0.4
TEST
engine fuel consumption in idle decreased 10 times (to 1l/h)
fuel amount increased from 1 to 2 gallons
flaps effectiveness adjusted
barometer hundreds needle offset fixed
battery state affect all digital gauges
average climb (last 30 seconds) with arrows indication
vario inop symbology hided
total energy calculation (both varios show same value for now)
vario tone linked with total energy sim variable
Alt+A hotkey bind for vario tone mute
DG Flugzeugbau DG-808S v0.3
TEST
Flight model adjustments
Vario sound samples changed
Yawstring thickness increased from 2px to 3px
Installer remove _CVT_ folder automatically
Installer issue with not copying files when "Install" option selected fixed
DG Flugzeugbau DG-808S v0.2
TEST
Flight model adjustments
Yaw string on canopy glass
DG Flugzeugbau DG-808S v0.1
TEST
Initial release
AIR data import performed
Flight model tuning
Pseudo jet engine added with very low amount of fuel
Asobo_VL3 sounds used
Variometer sound tone (can't be turned off yet)
Working gauges (no clickable elements)
Canopy transparency fixed