​ALBATROSS is a Microsoft Flight Simulator competitions app, focused on gliders at the moment, but also air race support planned to be implemented in the near future.

Application provides functionality:
download, install and delete tasks
display task information (currently link to ALBATROSS website)
set current pilot name for leaderboard appearance (will be replaced with registration in future)
set start/finish gates and turning points parameters (locked if event manager set these values in task manually); height in feet, MSL (i.e. barometric, match barometer value), width in meters
start task in training or competition mode (last one available only after start gates are open at configured by event manager date and time); after competition ends – you can choose the task as a training
fully integrated Kinetic Assistant
automatic timings capture for start/finish crossing and turn points rounding
results and flight track transfer to the server for public review after finish
save program log and flight track in CACHE folder for personal analysis
Esc key can be used to freeze the timer
Detected inappropriate actions, like slew mode, working engine, active tow/winch, will reset the race
1. After you launch the program for the first time: type in your name, select preferred server, press REFRESH button so pilots will be counted only on your server, and install the tasks you wish to fly.
2. All files you need will be installed into [MSFS folder inside of Users]\ALBATROSS\ , weather file will be copied into Weather\Presets automatically (you need to restart MSFS if it was launched during task installation weather preset will not appear in weather dropdown)
To load installed task, press Load/Save button on Map screen of MSFS (or [SPACE] key)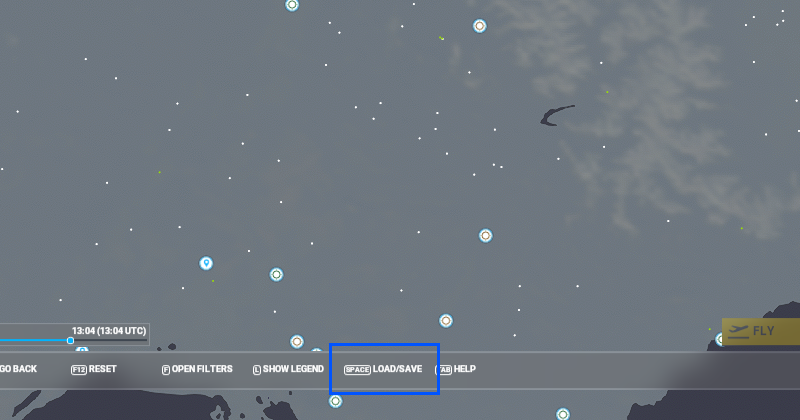 Go inside of ALBATROSS/[TASK NAME] folder and select FLT file (or PLN, if FLT not presented)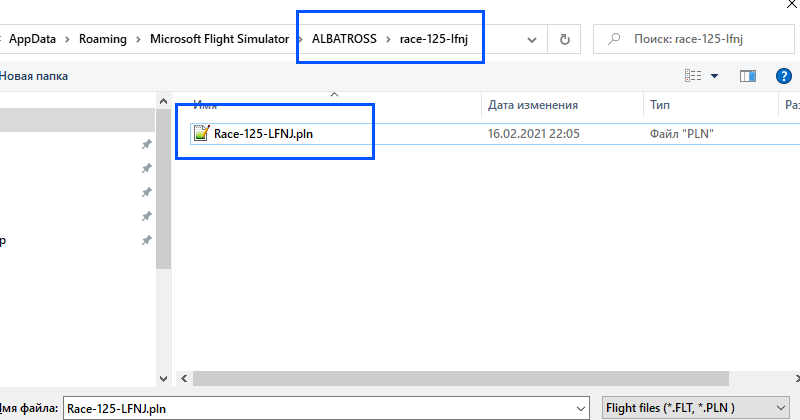 3. Press Flight Conditions button and choose weather preset with the same name as task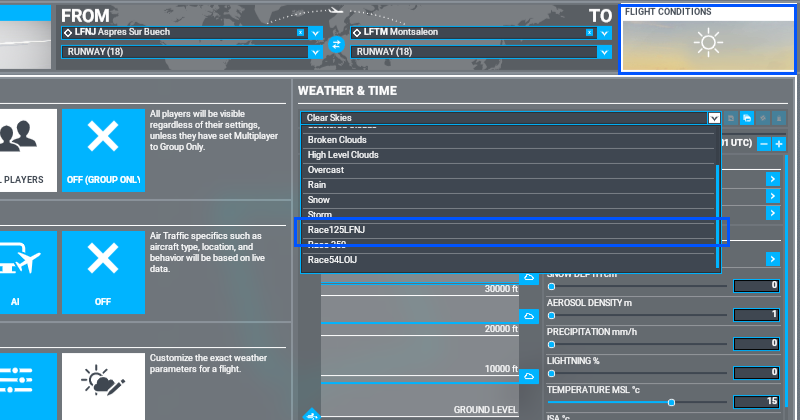 4. Choose aircraft you wish to fly and press Fly button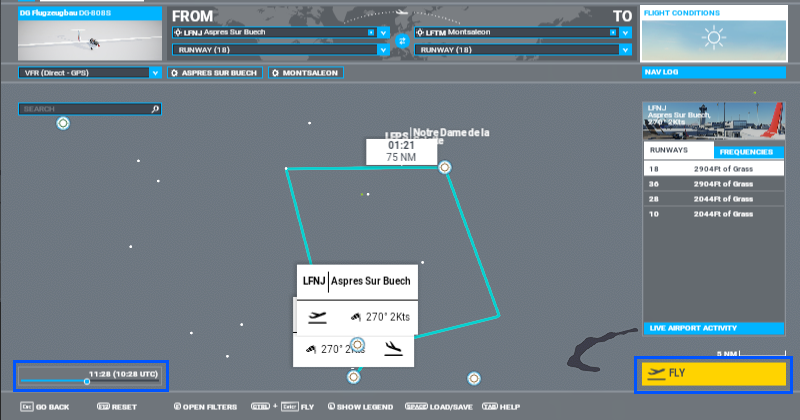 5. After loading finished, in the ALBATROSS program window press TRAIN or RACE button to start checkpoints processing. RACE may be unavailable if gates not open yet, you can see precise date and time in description window (your local time).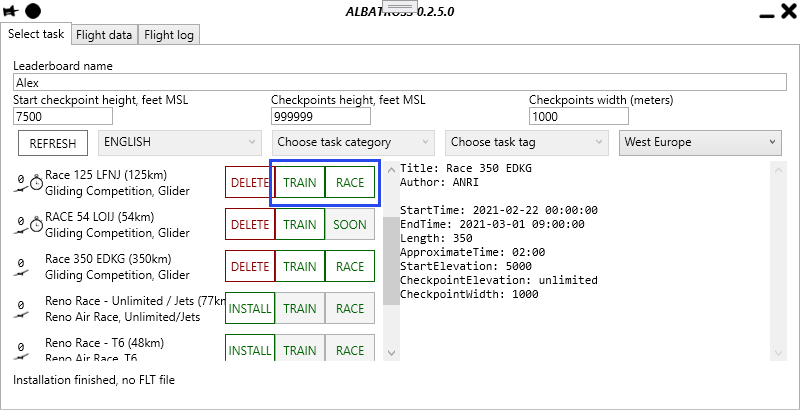 6. You can use Kinetic Assistant features same as usual, except some features locked during competition (like API thermals, if thermals CSV included, or Drifting thermals option). Ensure that task name and current mode is correct, timer updating and distance to the next point changing. If it freezes – tried to press DISCONNECT button and connect again.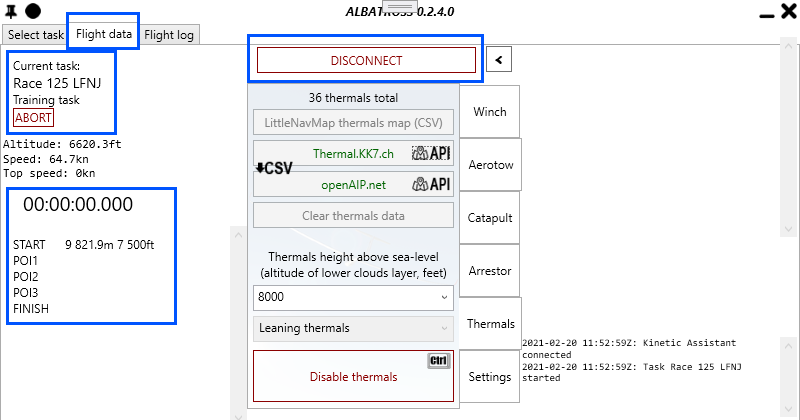 7. RACE mode has limitations after you passed start gate – you can't use engine, winch, tow or slew mode. If any of it will be detected – task will start over. You can use menu screen (ESC key) to pause the competition.
8. To export flight plane into XCSoar, press XCSoar button on Flight Data tab and save tsk file into XCSoar data directory.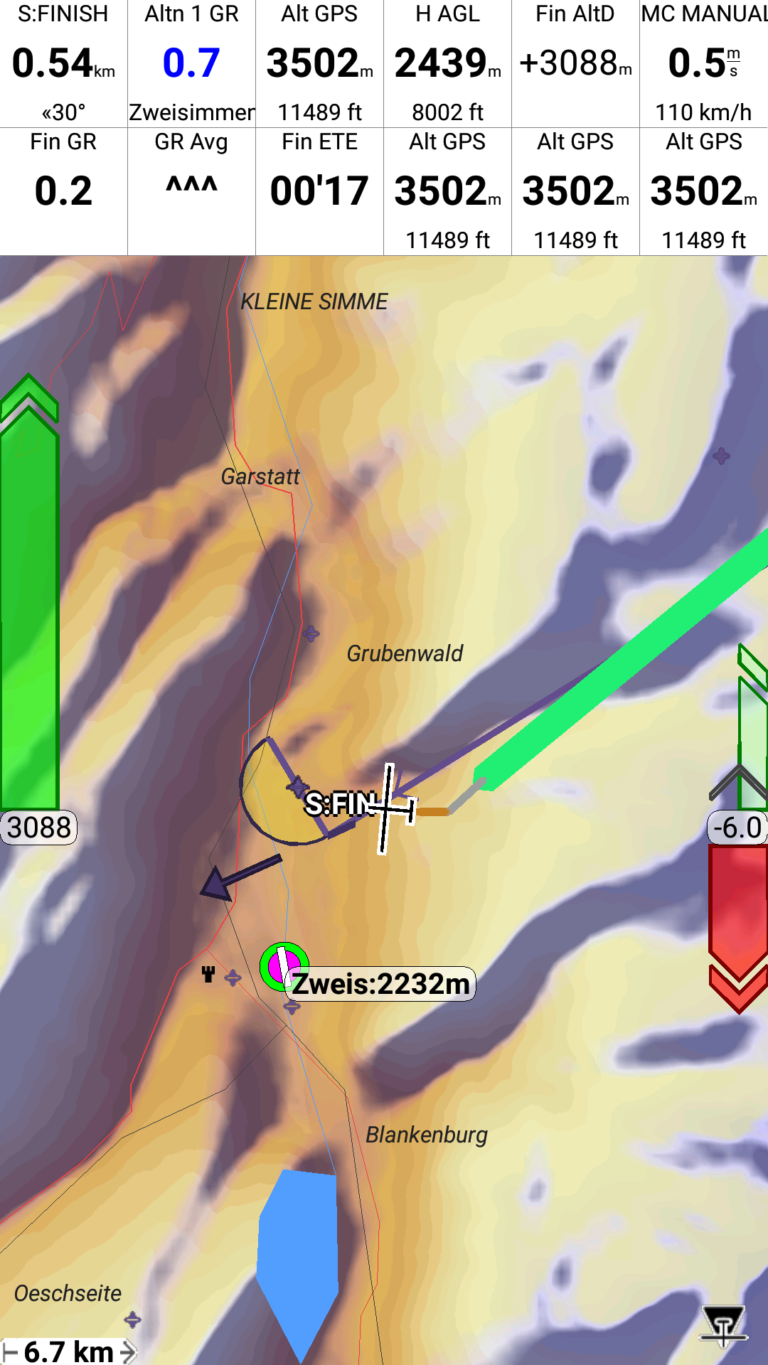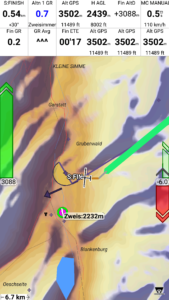 9. Gates and turnpoints has shape of sectors, last one is turned backwards so it acting like finish line.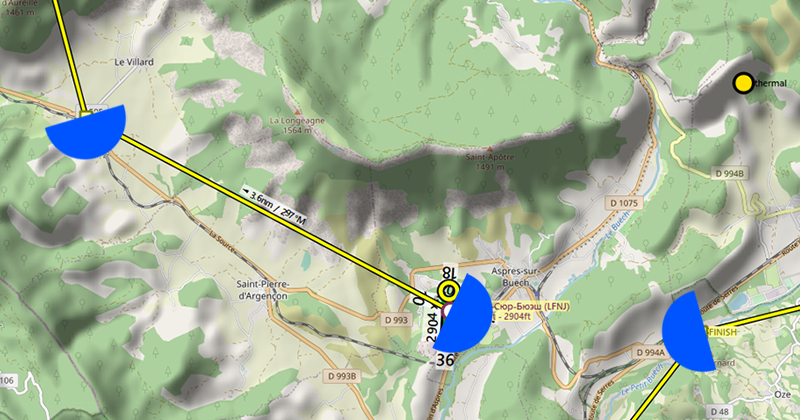 After you get inside the sector, checkpoint will be passed (except start gate – you have to leave sector to start counter) and  highlighted in green.
If it highlighted in red, it means your altitude higher than checkpoint height, it will be not triggered after you get inside the sector
10. After the last sector reached – counter stopped, task ended.
If you run race, next data sent to the server automatically and your record will appear in competition results. If training – button SAVE will appear, after pressing which same data will be sent to the server but appear below competitions results.
pilot name (Leaderboard name field)
aircraft name (set in aircraft.cfg file)
unique ID of your computer
checkpoints timings
track of the flight from start to finish
program log
GPX track and LOG files also will be saved inside of the CACHE folder (next to ALBATROSS.exe).
11. You can press RESTART button to start task over again, if it allowed by event manager.
12. To replay several tracks at once, you can load them in Google Earth manually (GPX format supported, just choose "All files" filter), or get GlideInsight tool which load tracks and flight plan automatically.
ALBATROSS MSFS competitions v0.10.1
– KineticAssistant 0.14 changes and fixes applied
– gates visibility issues fixed
It also can be installed into Community folder for automatic KineticPanel update, you just need to copy your old ALBATROSS folder into community, rename it to touchingcloud-tools-albatross and overwrite with files from 0.10.1 installer
ATTENTION! ALBATROSS events are part of KineticAssistant now, you can download latest version here https://msfs.touching.cloud/mods/kinetic-assistant/
ALBATROSS MSFS competitions v0.10.0
– KineticAssistant 0.13.2.0 changes merged
– Gates visualization – can be toggled with same checkbox as spirals
– Error on attempt to load flights history fixed
Update KineticPanel files from archive
ALBATROSS MSFS competitions v0.9.2
Kinetic Assistant v0.12.5.1 fixes:
AI towplane disappear on camera change
MSFS crashing to desktop on loading screen (disconnect workaround removed)
unstable velocity of ground crew push on rough terrain
ALBATROSS MSFS competitions v0.9.0
Kinetic Assistant v0.12.4 changes included – SimConnect data exchange improved, better groundcrew and towplane simulation, XCSoar update frequency increased, Updated KineticPanel
ALBATROSS MSFS competitions v0.8.0
Synced with KineticAssistant 0.11.0 – better thermals simulation, towplane wrong heading issue fixed
ALBATROSS MSFS competitions v0.7.2.0
Individual checkpoints parameters support added in format "START | 2000/1000X500" where START is custom name, 2000ft top limit, 1000 bottom limit, 500m width)
Race timer value on navigation screen and KA ingame panel
ALBATROSS MSFS competitions v0.7.1.1
game crash during loading fixed
airspeed limits added for AS-33me and Ka 6E
ALBATROSS MSFS competitions v0.7.0
overspeed penalty
NMEA heading value fix
ALBATROSS MSFS competitions v0.6.0.1
weight limits added for gliding competitions
overpass/underpass penalty for turnpoints and gates, indication both on nav screen and checkpoints list
aircraft model used instead of title
Kinetic Assistant 0.10.0.1 included
ALBATROSS MSFS competitions v0.5.4.5
* aircraft type filter added
* private status filter added, set Show private if you need to test your event before ask for approval
* waypoint name can contain spaces and special symbols; everything after symbol "|" will be ignored
* program close confirmation if connection established
ALBATROSS MSFS competitions v0.5.4.3
race difficulty level can be set by task author
"Check your result" link appear after race finished
connection restore feature compensate missed time for the race counter
Kinetic Assistant 0.9.4 included
ALBATROSS MSFS competitions v0.5.3.4
ALBATROSS MSFS competitions v0.5.3.3
size of SimConnect packet decreased about 50% without loss of functionality
frequency setting affect ghost planes update interval as well
ALBATROSS MSFS competitions v0.5.3.2
TEST
thermals bouncing while stalling fixed
separate point types (start, checkpoint, final, finish) each has it's own bottom, top and width parameters; not applied to current tasks yet so nothing to test actually
all hotkeys toggle after first connection fixed
ALBATROSS MSFS competitions v0.5.3.1
TEST
Competitors tracks stored in RECORDINGS folder for multiple usage
Competitor ghost name displayed on nav screen
Ghosts tracking process stopped on pause (they still flying around but after unpause will back on their places)
Window scale unlocked in case system fonts upscaled
ALBATROSS MSFS competitions v0.5.3
TEST
After TRAIN or RACE button press, you will see list of competitors already finished this task.
– in grey color – training records
– you should have selected aircraft installed, or it will not appear
– you can use towplane between takeoff and entering into start gate, it will be removed automatically
– you can select up to 3 records
– if some records selected, these ghosts will be inserted into the game after you entered into start gate sector; animation started – on exit
Known issues
– animation is not accurate (delay about 1-2 seconds, rough roll/pitch animation)
– pause does not stop ghost planes movement
– ghost planes position/speed updating while they are inside of nav screen view; if you lost some of them and then it appear in the 5km radius again – it will move to proper track position
– you can't load custom records after you entered into start gate
– you can see ghosts glider model and position on nav screen, but not name yet
– competition records prior to 05.03.2021 are ignored as they has AGL elevation instead of barometric altitude
– if program loose connection during race, or ghosts disappear, try to decrease SimConnect requests frequency (green slider above Connect/Disconnect button), then select only one competitor
ALBATROSS MSFS competitions v0.5.2
Kinetic Assistant 0.9.2 integrated
WPR file removal on race uninstall
Name and server required fields
Competition interrupted if weight increased in the process
Competition interrupted if sim rate increased or decreased (acceleration), pause (ESC key) still allowed
Flight track with real timestamps no longer created (only one with race timings)
ALBATROSS MSFS competitions v0.5
integrated Kinetic Assistant 0.9.1
simple tow plane launch – just start the race while you are on the runway and press AI TOW
additional aircraft data capture
minor UI changes
ALBATROSS MSFS competitions v0.4.3
"Kinetic activity detected" before race start fixed
ALBATROSS MSFS competitions v0.4.2
Track recorder and timer issues fix
ALBATROSS MSFS competitions v0.4
latest Kinetic Assistant integrated (thermals became weaker)
Early Ghost Replay feature added – manual record/replay buttons available for personal testing, no bug reports please
Ghost towplane added to the current race – Race-159-EDFY; to activate it:

install or update  Race-159-EDFY
select PLN file and weather from main menu of MSFS as usual, wait until you appear on the runway
prepare to takeoff
press RACE or TRAIN button in ALBATROSS
open Aerotow tab, press AI TOW button
process towing until you see "Release tow rope" message
move to the start gates or closest thermal
ALBATROSS MSFS competitions v0.3
Flight track precision improved, AGL value replaced with MSL
Archive timestamp check (to detect files update)
PLN Waypoints with id "TIMECRUIS" and "TIMEDSCNT" ignored
Waypoints visual indication on the nav screen
Kinetic Assistant 0.8.5 included
ALBATROSS MSFS competitions v0.2.5
flight plan export into XCSoar format (with same Observation Zone parameters so checkpoints triggering same time in the program and XCSoar client)
private tasks with password protection, only players with password can install, join or see online counter
training mode can be used anytime (except case when open date is in the future), flight results can be sent to the server and will be stored under competition results – press SAVE button after finish
pilots online counter for each task (accurate if server chosen by player)
progress icons for each task (training/competition completed)
details for each task on mouse hover
community tasks listed now (read instructions here), no multilingual support yet
ALBATROSS MSFS competitions v0.2.4
Critical issues fixed, Kinetic Assistant updated to 0.8.4 – please read update description as some features poorly tested
ALBATROSS MSFS competitions v0.1
TEST